Some of the best features on PlainVanillaShell.com are available only to Members. The good news is that Membership is FREE!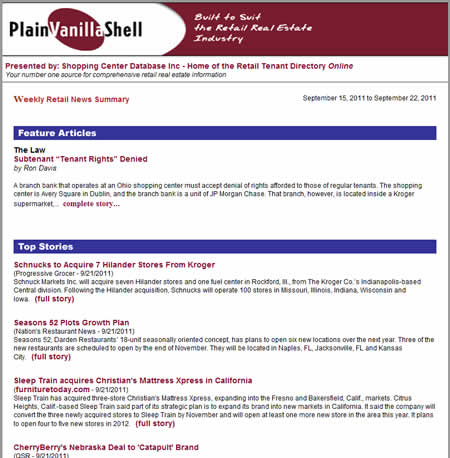 All you have to do is register on the site by providing your name and email address. When you register, you will have the option to sign up for our weekly news summary, a timely Monday morning email that gives you all the news from the previous week with links to the full articles on our site. Our editors also pick the top stories of the week and give you a quick abstract of them in case you don't have time to read them in their entirety.
You also have the option to receive special discount offers on retail real estate information products from PlainVanillaShell.com via email, but we will never sell your name to another company, and any email communication you receive from us has a link to unsubscribe from further communications. For details , visit our Privacy Policy page -- you will find a link to it at the bottom of every page on our site as well as information on how to contact us.
You can go ahead and register right now by clicking on this link to open up the registration page. Once you are done registering, you will be returned to this page to continue the tour.
Besides our weekly news summary, PlainVanillaShell.com members can do two other important things on our site that no one else can...